Audi marks 20 glorious years of RS6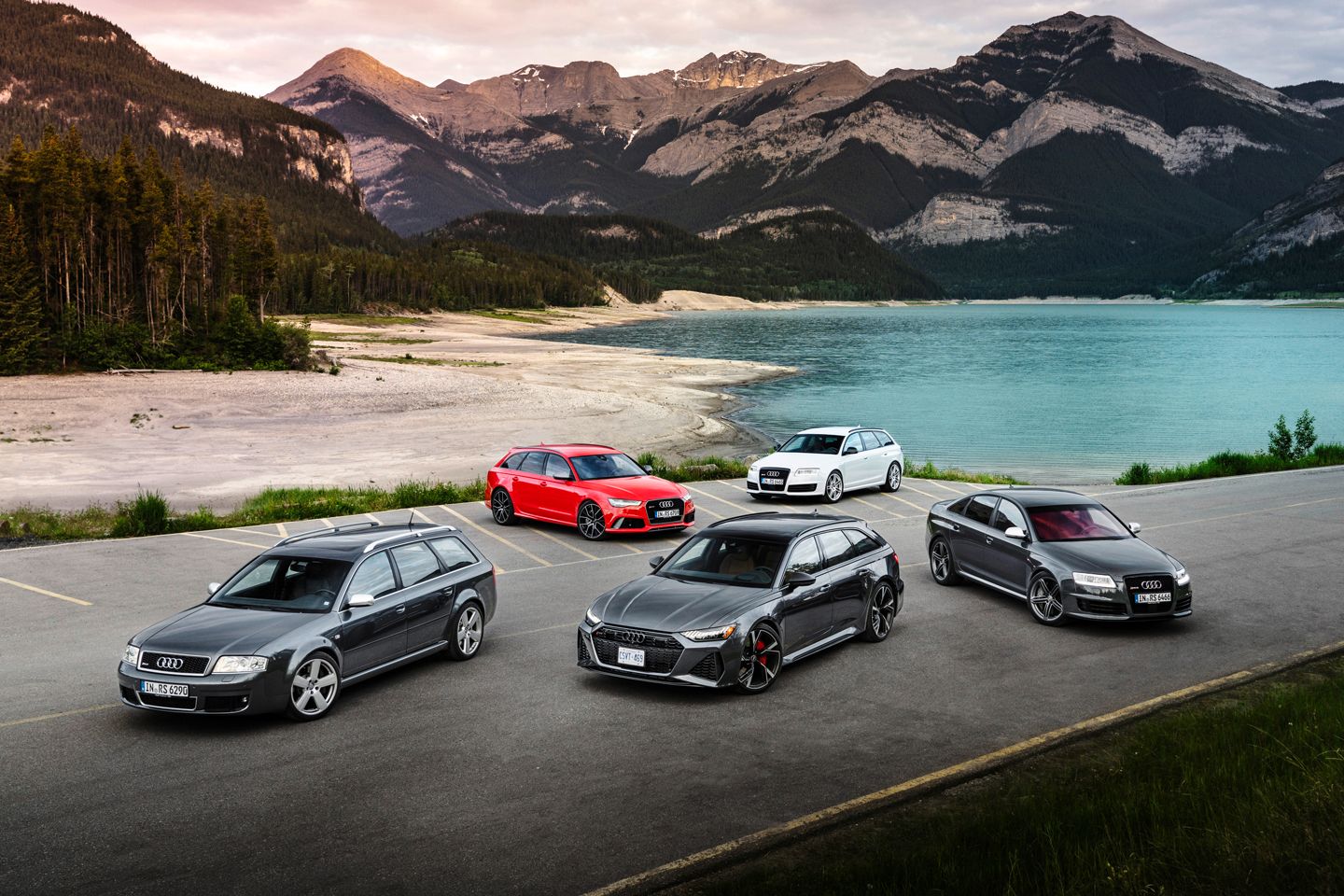 The RS6 was not the first Audi RS car, and it's no longer the most expensive model in a sprawling range. But perhaps nothing encapsulates what RS is all about better than the 'bahnstorming A6. It's been twin-turbocharged for 20 years, ensuring mighty performance, and its sheer size has always guaranteed family-friendly practicality alongside. Combine those elements with a relatively subtle yet very handsome look – avoiding a lot of unwanted attention – and it's easy to see why the RS6 has proved so popular since 2002.
The current C8 generation did break with tradition somewhat, however, with its more, erm, overt styling. That's not just a dull journalist's view, either – even Audi concedes it. "Where the C5, C6, and C7 generations of the RS6 only stood out as power station wagons on the second look, the C8 creates a different impression: even lay people will recognize right away that this is no normal A6", reads the press release. While RS6s have always been lower and wider than standard (and sometimes longer to fit a gigantic engine in), the current car is notable for several bespoke panels: only the front doors, roof and boot are shared with an A6.
By and large, however, the RS6 is still doing what RS6s have always done, now helped in that endeavour by a 600hp mild hybrid V8 (still twin turbocharged), all-wheel steering, and the latest generation of the Dynamic Ride Control (DRC) that's been available on all RS6s. Buyers can get 22-inch wheels for the first time with this C8, too, even if that seems a little at odds with the core message – Audi reckons more than half of new European RS6s are ordered with a tow hook as well. "That shows that customers don't only want a sporty drive, they also want to meet everyday challenges" said Stephan Reil, who's been in charge of developing every RS6.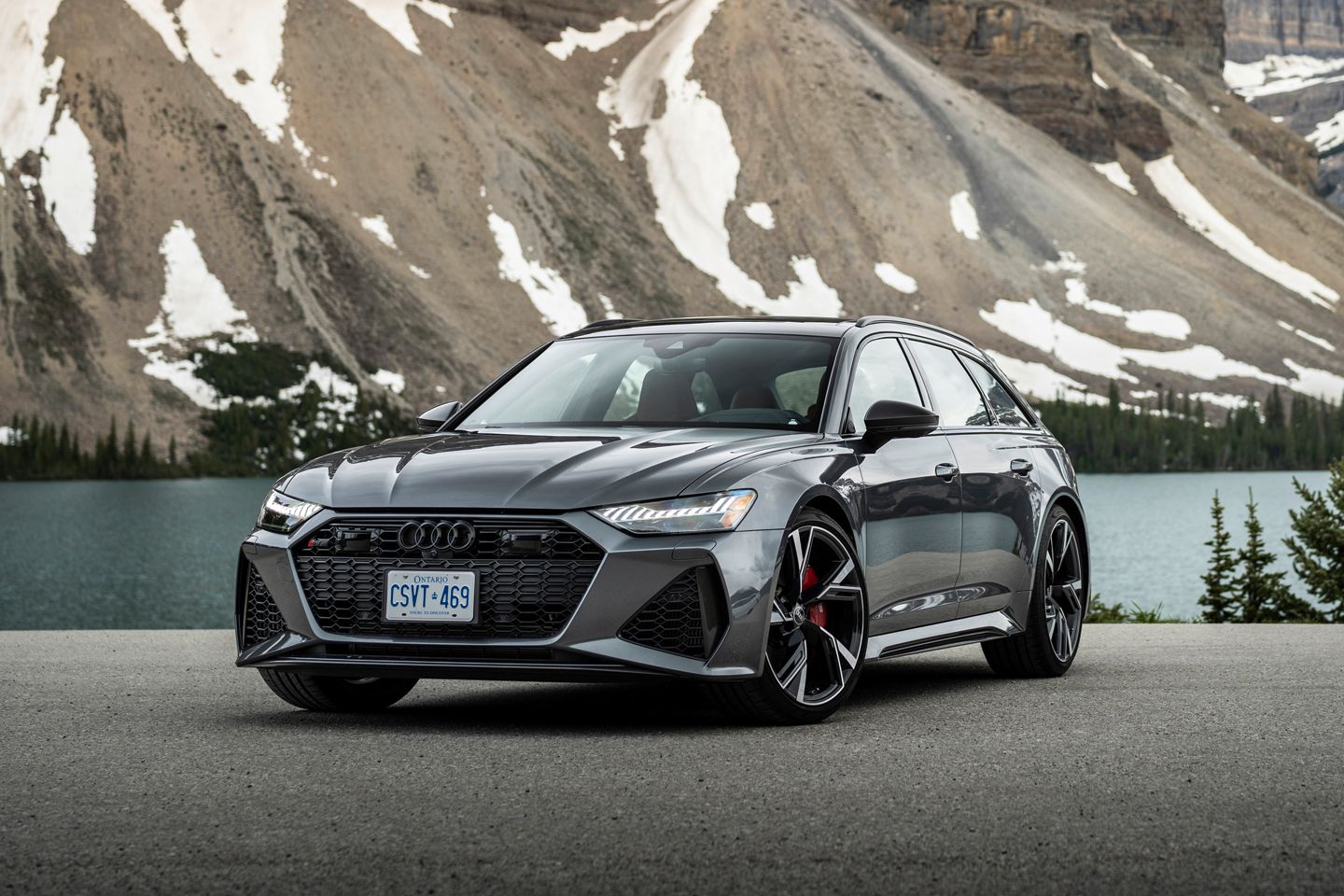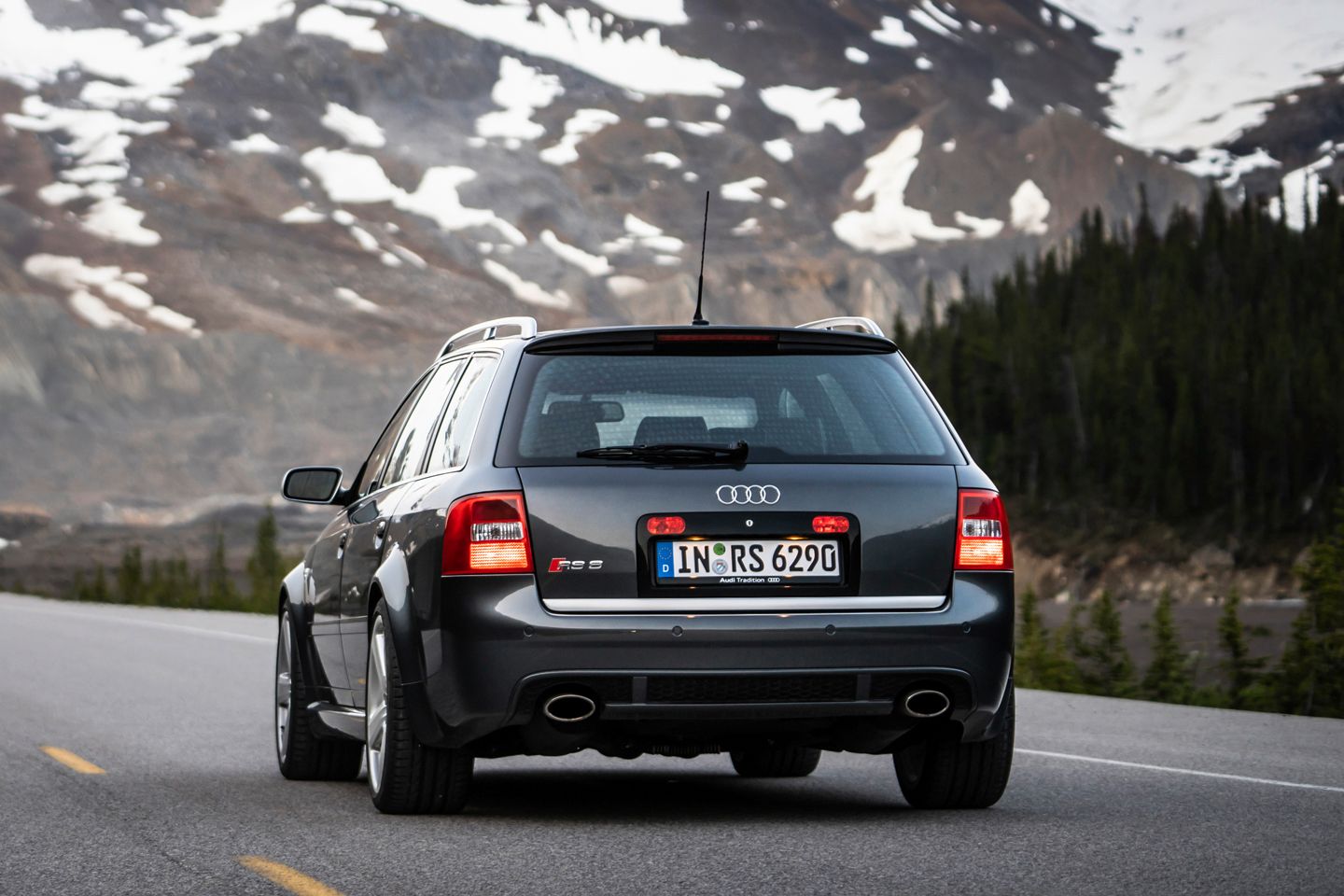 With the current car having been on sale now for a couple of years, it is possible to pay £90k or a bit less for a C8 RS6. But if white with 22-inch wheels isn't the RS6 look for you, how about this one? Grey paint and the smaller wheels create a more subdued look akin to the old cars – it's yours from Stafford Audi for £98k.
But big birthdays are not for talking about the here and now, they're for celebrating those past big achievements. And be in no doubt – the original RS6 was a huge achievement for Audi. There had been S6s beforehand, though never with more than 340hp. And while the B5 RS4 had blown the socks off everyone and everything within range, it wasn't guaranteed that the A6 equivalent would have done the same. Then came the C5 RS6: 450hp and 413lb ft from a Cosworth-tuned twin-turbo 4.2 V8 (when an M5 made 400hp and 369lb ft), unbeatable quattro traction, and the kind of understated, menacing aesthetic that Audi always did better than anyone else. Layer Cake wouldn't have worked with any other wagon, would it?
If not as good as an E39 M5 to drive, the RS6 proved the demand was there for a mega estate. Today a C5 purchase is not without peril, given the fearsome thirst and well documented mechanical woes, but good, original ones are appreciating as the bad ones waste away. The run-out RS6 Plus, with 480hp and 174mph, is tough to find but very desirable; for regular Avants, £15k buys one like this with 100,000 miles and what's said to be a full Audi service history. Or, for something really rare, here's one of the saloons for the same money – one of just 270 ever made. Says something of the RS6's inherent style, too, that even a Misano Red four-door can look this good 20 years on…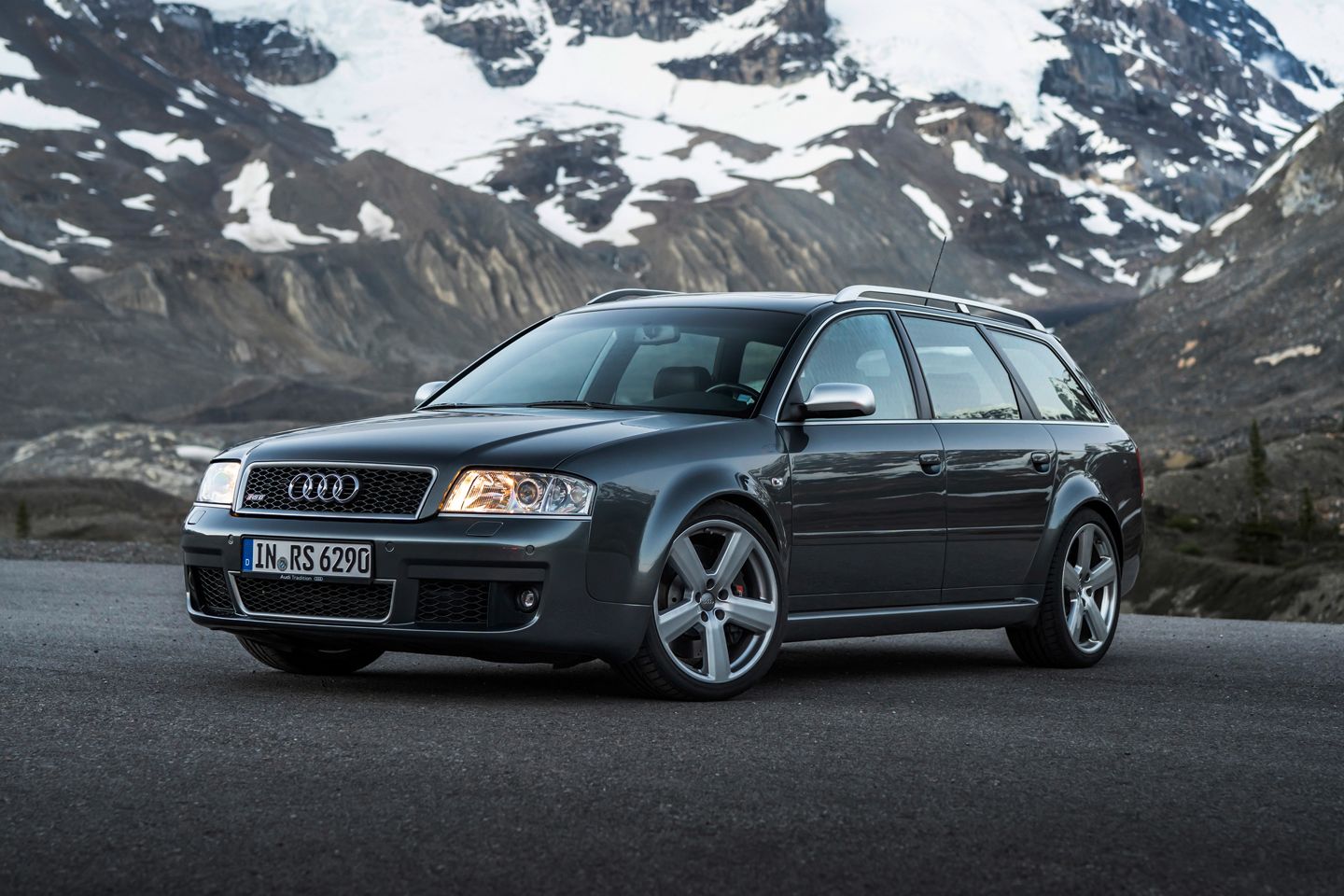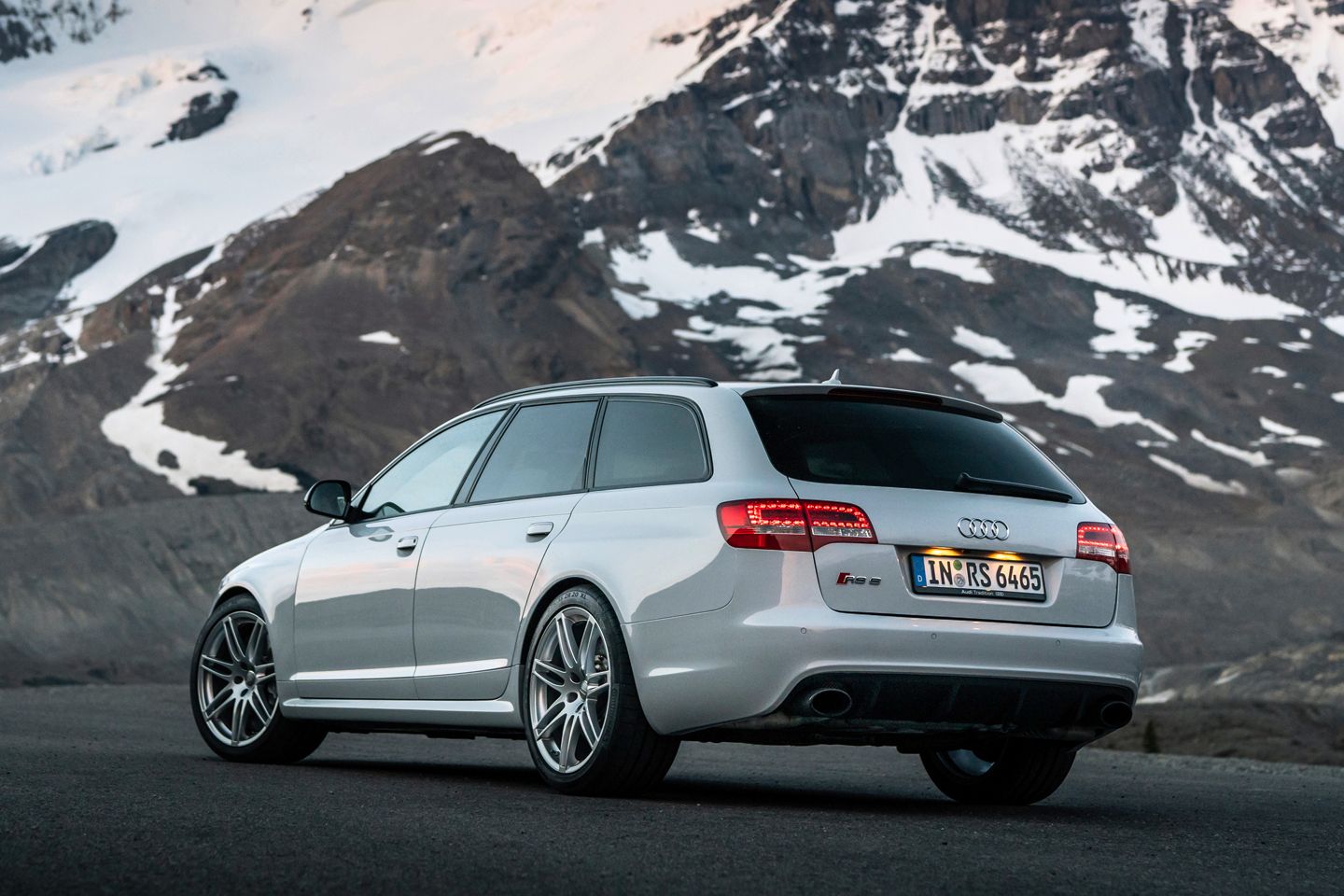 For the C6 generation, the Audi RS6 became really, really silly. As was the style at the time. Every manufacturer was churning out ridiculous cars pre financial meltdown. So, to battle an E63 with a 6.2 V8 in it and an M5 Touring that revved to 8,250rpm, Audi did the only thing it could do and offered more of what worked so well beforehand. More capacity (up from 4.2-litres to 5.0), more cylinders (10 instead of eight) and more performance: 580hp and 479lb ft meant 0-62mph in just 4.6 seconds. "I don't know of any engine compartment that is filled better than the one in the RS 6 C6" added Reil.
A dry-sumped V10 that weighed 278kg made the C6 RS6 a little nose heavy to say the least, but that would have been missing the point. As our Hero story suggested, "the V10 was not merely a stand-in until its maker dreamed up something more capable; its output was intended as the car's standout feature, and still feels it more than a decade down the line. That Audi declined to share it with another model, and wouldn't build a more powerful engine for years says much about the V10's legacy." What greater reason for being could there be?
Courage will again be required to take on a V10 RS6 today, though with original cars creeping up arguably they're the best value of all. This Mugello Blue Avant (the odd saloon is out there) has a lot of miles on it but a lot spent on it as well, which is encouraging. As are four matching Michelins, a recent service and a brake upgrade – to deal with the 603hp and 555lb ft it's now producing. Maybe try and negotiate a full tank into the £18,990 asking price, though.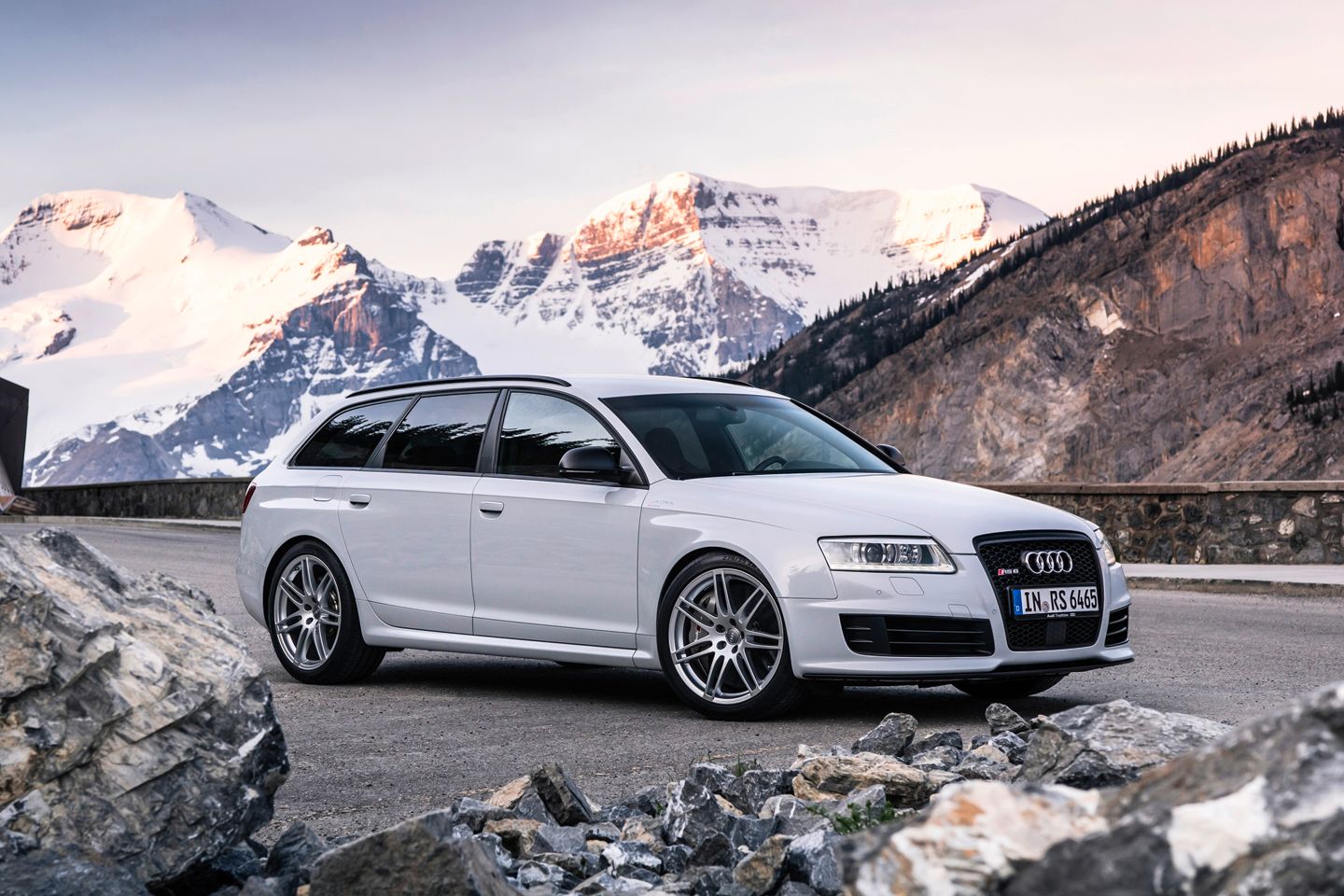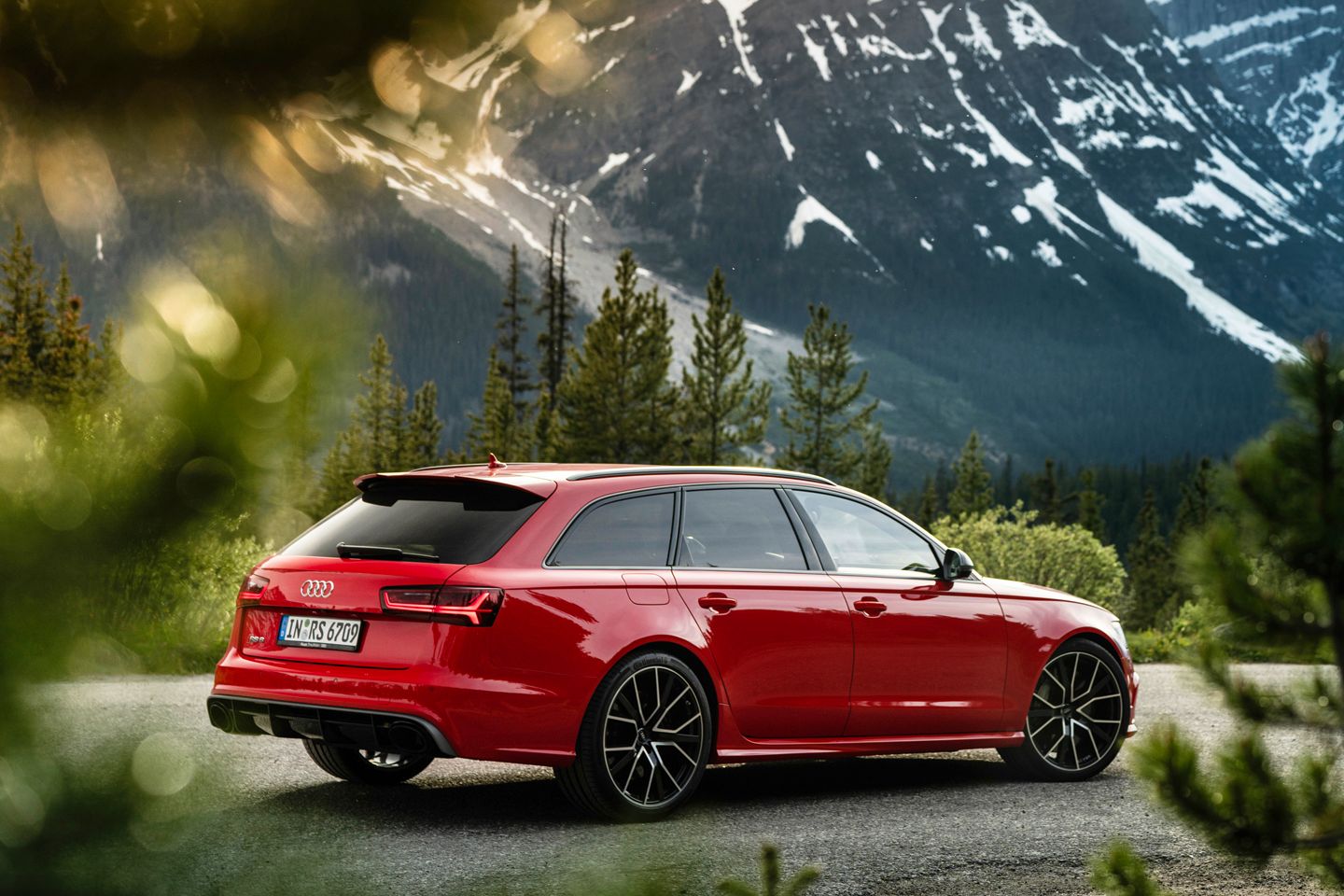 For many, the third RS6 (or C7) remains the pick of the bunch, combining the traditional subdued look with modern equipment and significantly improved ride and handling over the V10. A smaller, lighter engine contributed a huge amount to the 120kg saving, and the new 4.0-litre twin-turbo V8 was mounted a huge 15cm further back than the 5.0 V10. It meant weight distribution (for a lighter car, remember) was 55:45, against 60:40 for the car it replaced. Standard air suspension helped the ride (with DRC still optional), and even with less power than before the C7 was absurdly fast: it could reach 62mph in less than four seconds thanks to a new eight-speed auto, 560hp and 516lb ft.
However, Audi being Audi and this being an RS6, it didn't stay that way for long. The Performance of 2016 remains the most powerful RS6 ever, with 605hp and an overboosted 553lb ft possible. Today a Performance can be bought for a smidge more than £50k, with the very best cars like this 14k-mile Sepang Blue example approaching £70k. Those content with a mere 560hp, however, will be pleased to know that early C7s are hovering around £40,000. And it's still hard to think of a more complete fast estate for the money, which has rather been the RS6 USP for 20 years now. Long may it continue.